Office 365 brings together all your everyday applications such as Microsoft Word, Outlook, Excel, Publisher, Access, OneNote and PowerPoint, allowing your team to use the tools that work best for them. Benefit from the best productivity solution in the cloud. Access email, edit and share documents, create presentations, or make video conferencing from anywhere and on any device. Optimise collaboration and teamwork. Improve the efficiency of your employees through integrated solutions to share relevant and always up to date information and facilitate easier and more fluid communication. With plans to suit your business requirements, you can pay for just the features you need. Features also include:
Microsoft Teams
Microsoft Teams is a chat based workspace in Office 365 which empowers productivity by bringing together conversations, files and tools allowing teams to collaborate on shared projects. Microsoft Teams is the inner loop for your team – a persistent chat board where you can have informal, real-time, conversations around focused topics or specific sub-groups within the group. Creating a Microsoft Team adds this persistent chat capability to the Groups experience in Outlook.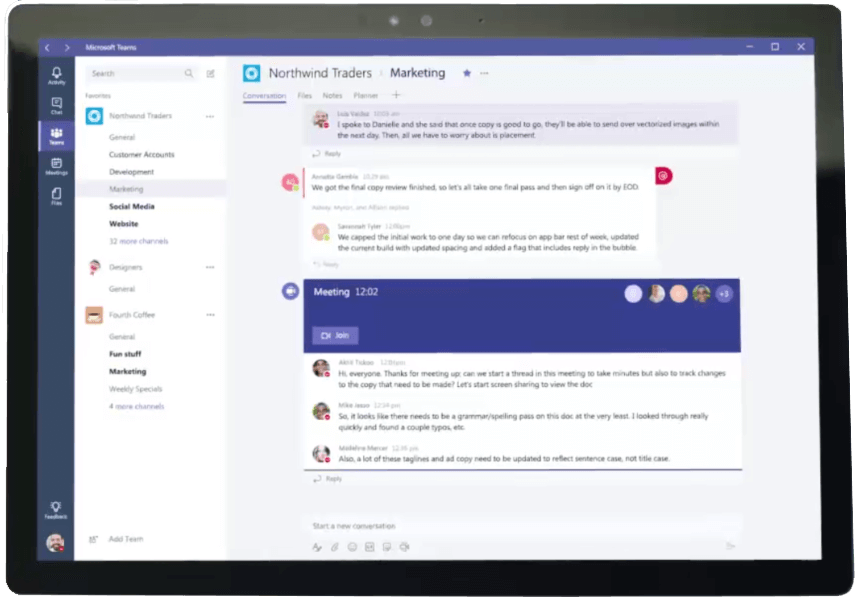 Skype for Business
Skype for business allows you to simplify your infrastructure with one platform for calling, HD video conferencing and sharing. Connect your teams with the experience they love, find out more about Skype for Business here.
Exchange Online
Work smarter, anywhere, with hosted email for business. Exchange Online helps protect your information with anti-malware and anti-spam filtering protect mailboxes. Data loss prevention capabilities stop users from accidentally sending sensitive information to unauthorised people. Your data is safeguarded by globally redundant servers, premier disaster recovery capabilities, and a team of security experts monitoring Exchange Online 24/7. It's easier than ever to provide your employees with the business email they need to stay productive with anywhere access to email, calendar, and contacts on all major browsers and across devices. Integration with Outlook also means they'll enjoy a rich, familiar email experience with offline access.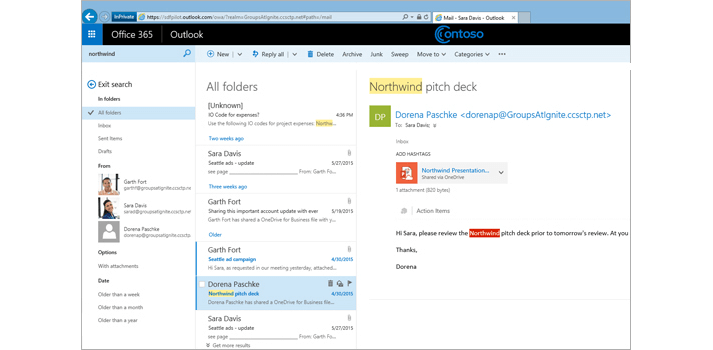 OneDrive for Business
Making collaboration easy, OneDrive for Business stores files online, so they're always in sync and up to date. Keep project emails and shared documents together in one place with a project-specific mailbox only team members can access, so no time is wasted searching for what you need. Since your files are stored online, you can share them with anyone, even co-author, in real time. No matter where you are.
Secure your business data with a flexible solution that allows you to customise different levels of protection. It makes the most of a robust tool and reduces the risks associated with data loss. Office 365 includes a simple and intuitive user management panel that allows you to install and configure all the features quickly. In addition, with Prodware you will have complete services for both the deployment phase and the support.
Office 365 is available in three plans. Each plan contains applications to allow your business to collaborate more effectively; Office 365 Business Essentials, Office 365 Business and Office 365 Business Premium, or get even more for your business such as advanced security and support with Office 365 ProPlus, Office 365 Enterprise E1, Office 365 Enterprise E3, Office 365 Enterprise E5. To find the right plan for your business and how these tools work seamlessly with Microsoft Dynamics NAV and Microsoft Dynamics 365, contact Prodware.