By providing a collaborative workspace that can be used by both customers and partners, separately and together, Collaboration software from Microsoft such as Office 365, Office 365 Groups, Skype for Business, Yammer and SharePoint enable increased productivity. By harnessing the creativity of people with structured processes that is enabled by collaborative technology, businesses can get more out of the working day.
Collaboration software from Microsoft
Yammer
Yammer brings the enterprise social experience to your collaboration. It helps you make new connections, discuss ideas, share updates, and crowd-source responses from colleagues from across the globe. Yammer gives your team a faster, smarter way to connect and collaborate across your company. Extend your reach by connecting with external partners outside your organisation if needed. Secure mobile applications keep teams connected wherever they are helping them stay productive.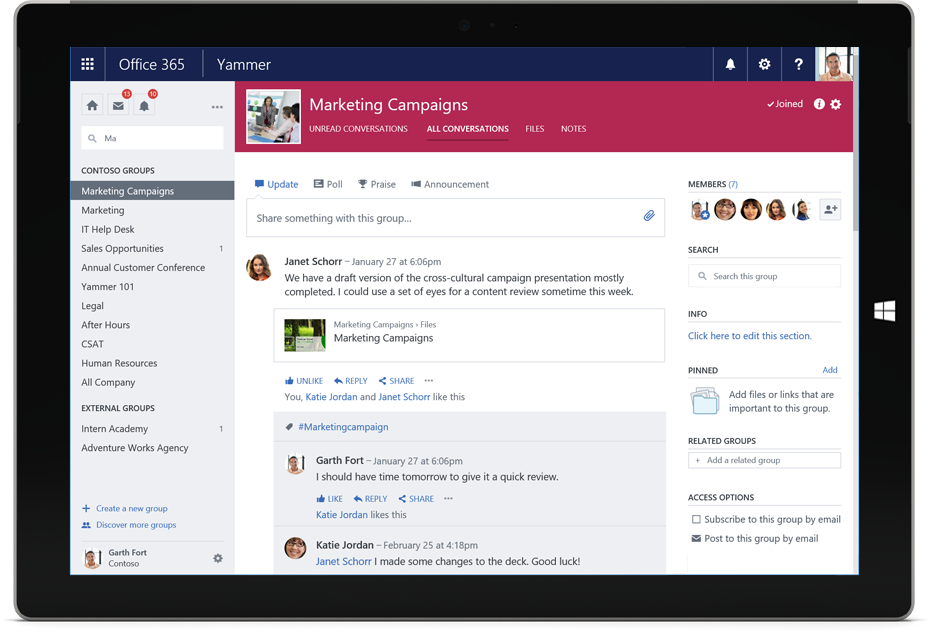 SharePoint
Empower individuals, teams and organisations to intelligently discover, share, and collaborate on content from anywhere and on any device. SharePoint is available as a standalone service, or you can get it as part of an Office 365 plan.
With SharePoint Online users can stay productive from anywhere with the new SharePoint app. You effectively have your company's intranet in your pocket, giving you access to your team and organisational resources. Intelligent recommendations find resources for you and People Cards help you make to understand what your team are working on. Use the content hub to bring people together from inside and outside of your organisation.